Best of DC 2014 (Washington City Paper)
Best Brewery
3 Stars Brewing Company
6400 Chillum Place NW, (202) 670-0333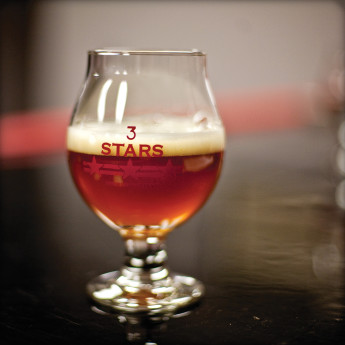 Photograph by Darrow Montgomery
Every brewery in the District makes refreshing beer. But none of them does so quite as refreshingly as 3 Stars, whose co-founders Dave Coleman and Mike McGarvey approach brewing with an unapologetic commitment to fearless fermentation.
At its establishment in 2012, the brewery was usually associated with burly imperial stouts, porters, and ales. In response, Coleman and McGarvey spent 2013 wielding a deft touch across the stylistic spectrum. Harvester of Sorrow—the brewery's Peppercorn Saison aged in Cabernet barrels—perfectly showcased 3 Stars' dexterity, ending the year on nearly every local beer nerd's best-of list. B.W. Rye #4, a ceaselessly drinkable rye gose collaboration with Baltimore's Oliver Ales, refreshed with an acidulated malt-assisted salt pop. 3 Stars' late 2013 releases went big on sessionable, fruity saisons and the restrained but tasty Samsquanch IPA, all less than 6 percent alcohol.
The plan, Coleman says, is "trying new and old styles not common to the market and making solid examples," while "executing on styles common to the market, but putting our unique spin on them and making them as good as anyone."
It's resulted in a portfolio of 35 different beers in merely 20 months. Furthermore, an expansion that began in 2013 will more than triple the brewery's production in 2014, enabling 3 Stars to bottle in large formats—distributed first to the sold-out-in-one-day Illuminati Reserve Society (of which, full disclosure, I am a dues-paying member)—and do more long-term barrel-aging with, Coleman says, "a huge selection of new barrels" to be stored in "multiple barrel-aging rooms."
3 Stars' already-sizable outreach is growing, too. The brewery has committed to bring nine different beers to Nationals Park this season. Recent collaborations like one with Pizzeria Paradiso—a nine-part series "exploring the writing" of Dante!—prove that 3 Stars spent plenty of 2013 planning profitable partnerships. Perhaps most impressively, no local brewery remains so steadfast in its support of the local homebrewing community, staffing and stocking what's one of the best homebrew shops in the region. That dedication to thinking big and bringing all their friends along for the ride goes down just as smooth as anything a tavern pours.